Get advice from the digital marketing experts offering advice, research, how-tos, insights, benchmark stats and more. All in the name of helping you create better marketing returns.
How to use the Google Keyword Planner
If you are running an online marketing campaign on Google Search and are aiming to optimize your response rate, costs and results, make sure to make a thorough selection of the right keywords.
This article will show you how to use the Google Adwords Keyword Planner to discover keywords that can help you reach people interested in your product or service and therefore likely to convert.

A quick read for everyone who wants to run highly profitable online advertising on Google Search.
Step 1 - Access the Keyword Planner
You can access the Keyword Planner here. Here, you will have to log in to your ad account and select the customer ID number you want to search with.
Step 2 - Find Keywords
To get started, you will have to choose between two options:
discovering new keywords or
search volumes and forecasts.
The latter feature is mainly used to check the search volume of keywords you have already collected, so let's focus on the first tool which will help you generate new keyword ideas.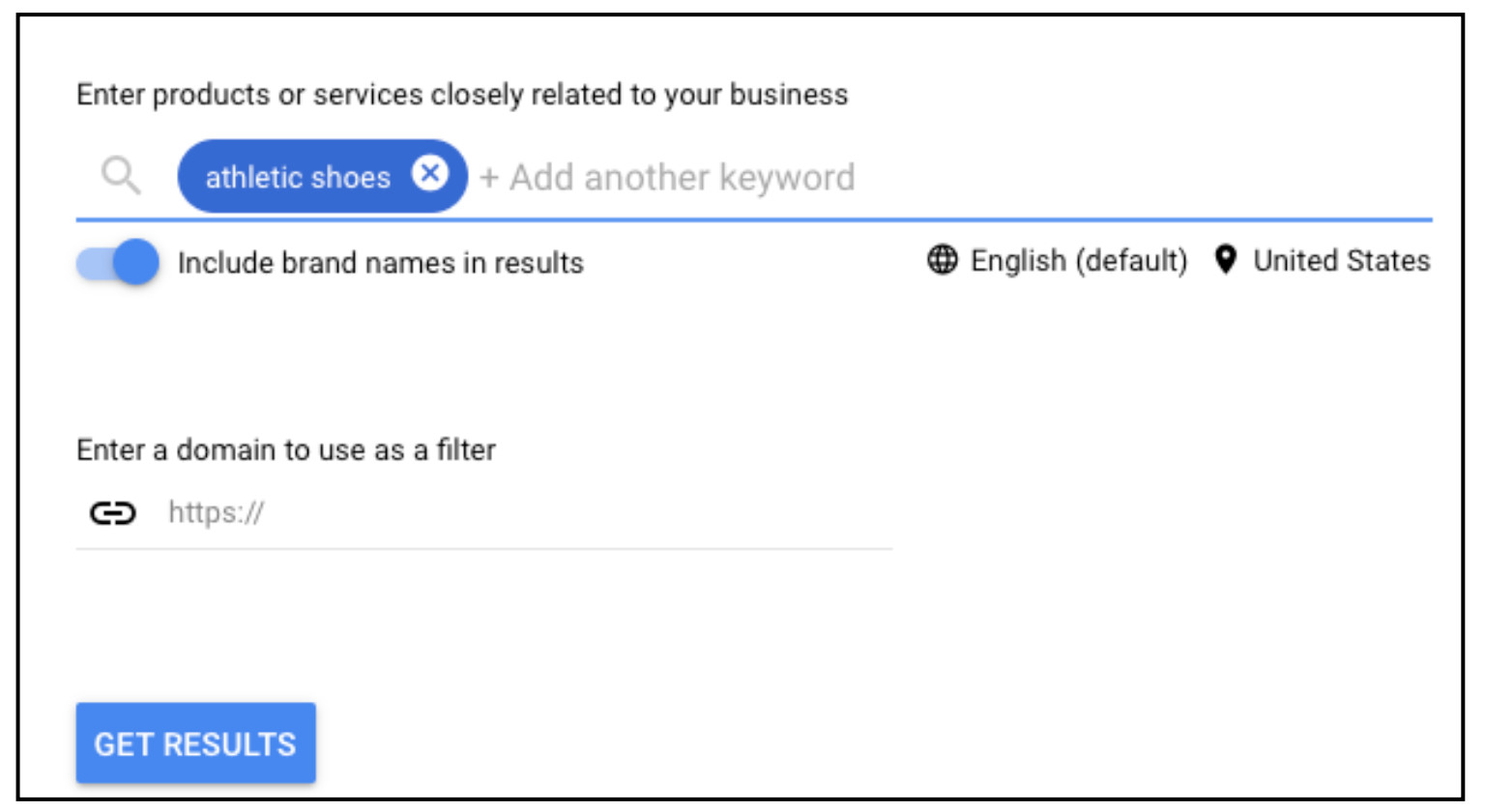 Select the tool and you will be directed to a new page where you can enter words or phrases to describe products or services that are closely related to your business. If you do not wish to include brand names in your search results, you can deactivate this feature by clicking the according button right underneath the text column.
It is also possible to enter a domain or your own site for Google to scan and exclude any keywords for services, products or brands you do not offer.
Clicking GET RESULTS will show you the results page with keywords that Google generated from its internal database of keywords for different industries.
Step 3 - Structure results and choose keywords
The main elements of the page are as follows: At the very top you will find three targeting options that you can use: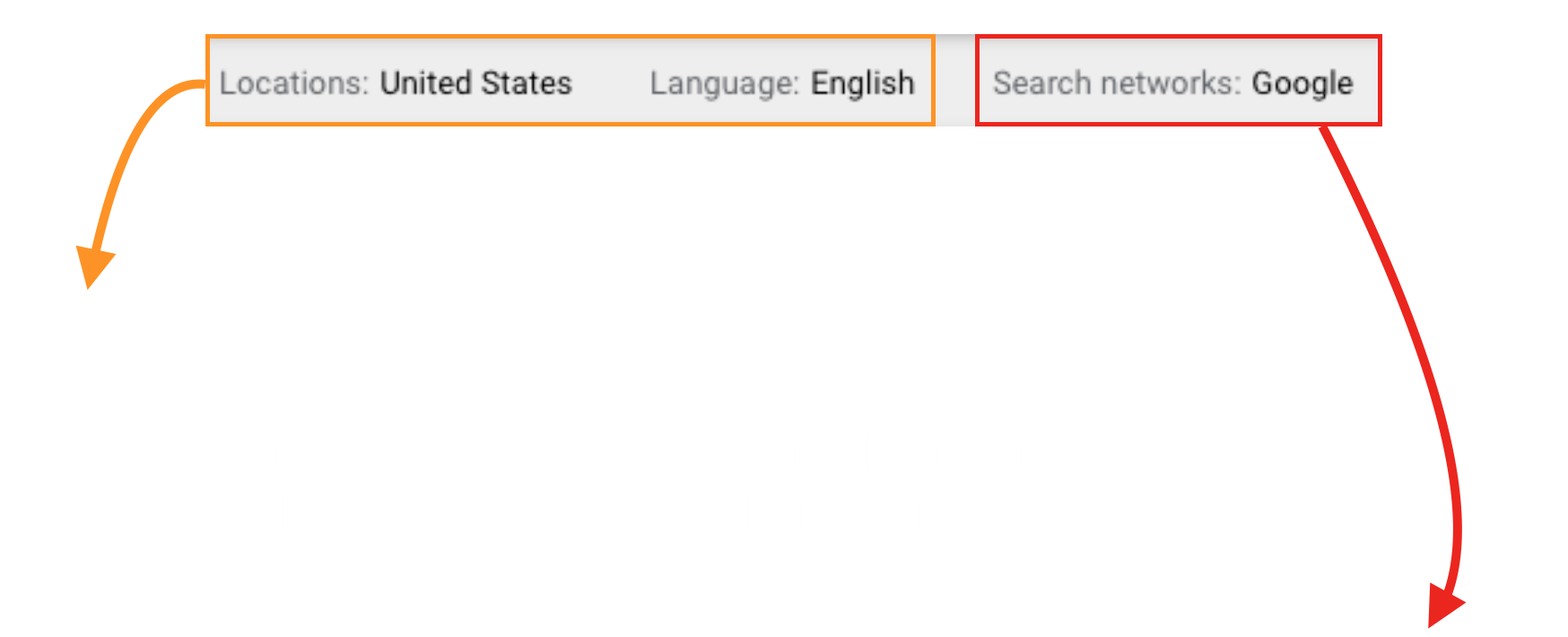 These include the countries (Location) you are marketing in and the Language of the keywords that Google informs
you about.
Within Search networks you can determine whether you want to advertise on Google only or instead use other search engines and Google properties as well
To broaden your search, you can add proposals the tool offers you. Alternatively you can add a filter to your keyword results allowing you to sort and structure your findings and finally choose the best keywords.

There is a variety of options you can apply here. In the following the most helpful ones are described in more detail: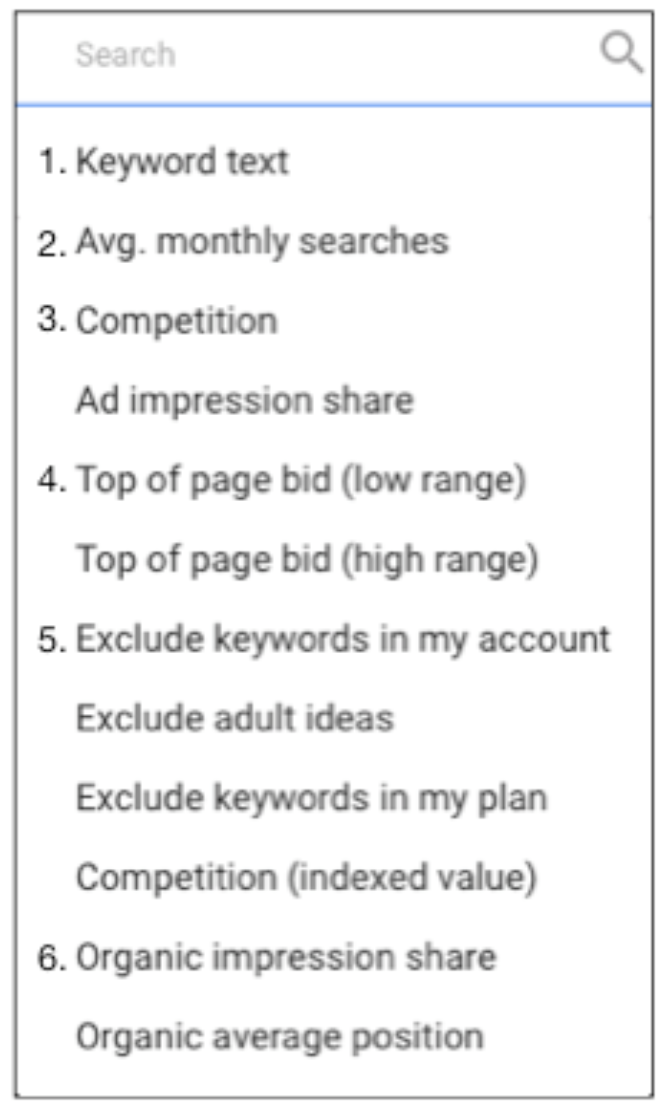 1. Keyword Text
… will only display keywords that contain a certain term. Type in 'white' for example to make sure that this attribute appears in all of the suggestions you get from the Keyword Planner.
2. Avg. Monthly Searches
… filters out keywords of particularly high or low search volumes. The higher this number, the more likely the according keyword will help you generate traffic.
3. Competition
… filters for keywords with Low, Medium or High competition.
4. Top of Page Bid
… helps you filter for the estimated price you will have to pay in order for your ad to appear at the very top of the page. Setting your price range allows you to include or exclude keywords of different commercial intents. If the competition for a keyword and thus the suggested bid is rather high, the traffic that ends up on your website has a higher potential to actually result in conversions.
5. Exclude Keywords in My Account
…excludes keywords that you're already bidding on.
6. Organic Impression Share / Average Position
The OIS indicates how often your site appears in the organic results when a certain keyword is searched while the AP shows where you rank amongst them. These are first indicators for your keywords' competition. You can use this as a first base for further examinations on how to outrank other websites through specific SEO activities.
Sort your results by all of these options by simply clicking the respective column once (from highest to lowest value) or twice (from lowest to highest value).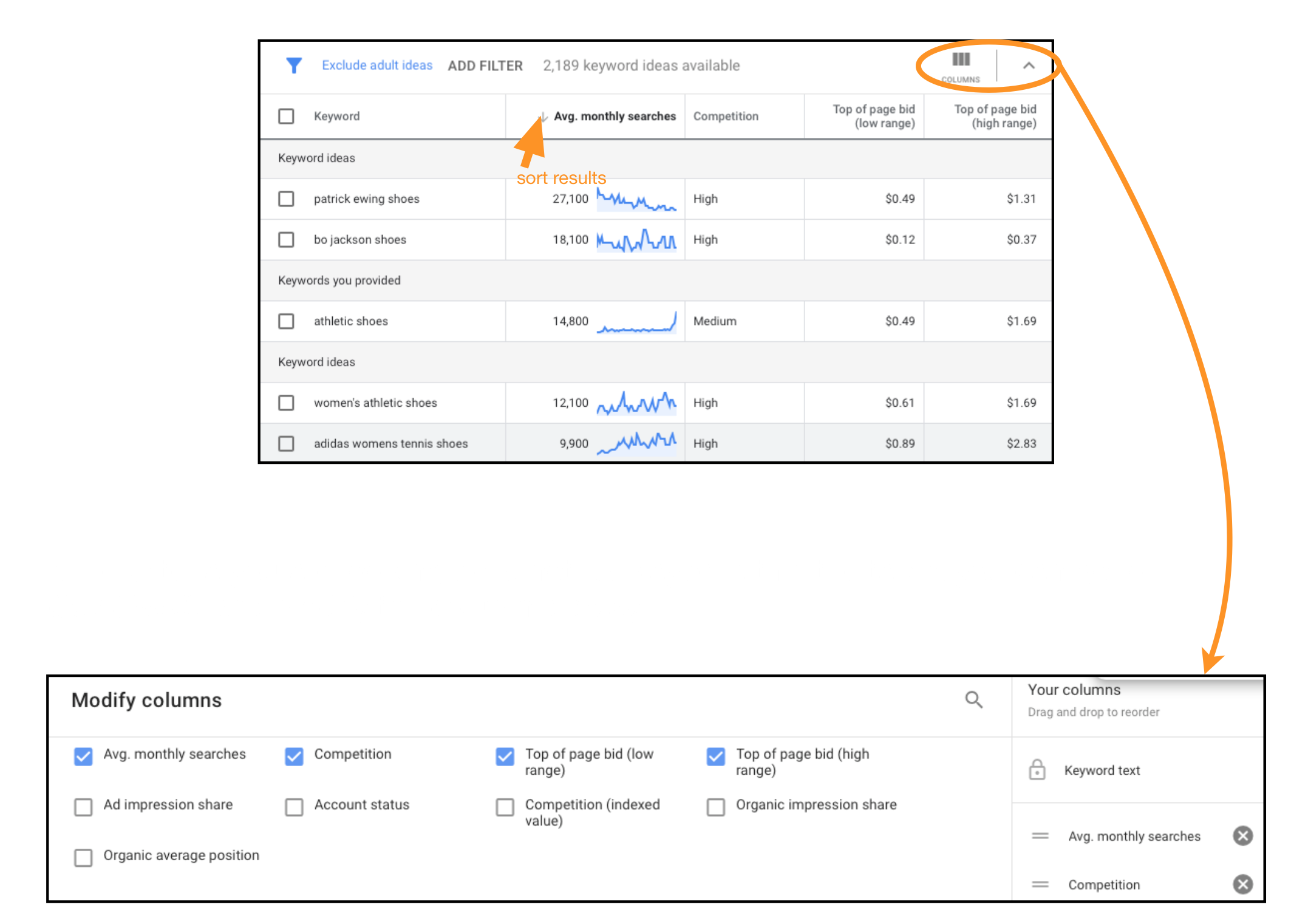 If the criteria you are looking for is not displayed within the table, you can go to COLUMNS and modify the column display.
Putting some effort into the search of the right keywords can make a real difference to your online marketing campaign. You want to be addressing your most relevant audiences in the most efficient way possible. And although your keyword planning is a task not to be underestimated, if you follow the basic tips explained in this article, you are definitely on the right track.

Select the perfect keywords, gain control over your traffic and ultimately improve your return-on-invest. Make sure to devote some time to your next campaign set-up. The results will prove: it's definitely worth it!
Conversion tracking is an integral part of any well-planned digital marketing campaign. It provides an edge to which all forms of traditional advertising can not replicate.
But what exactly is it? Why is it so important? And how does it work?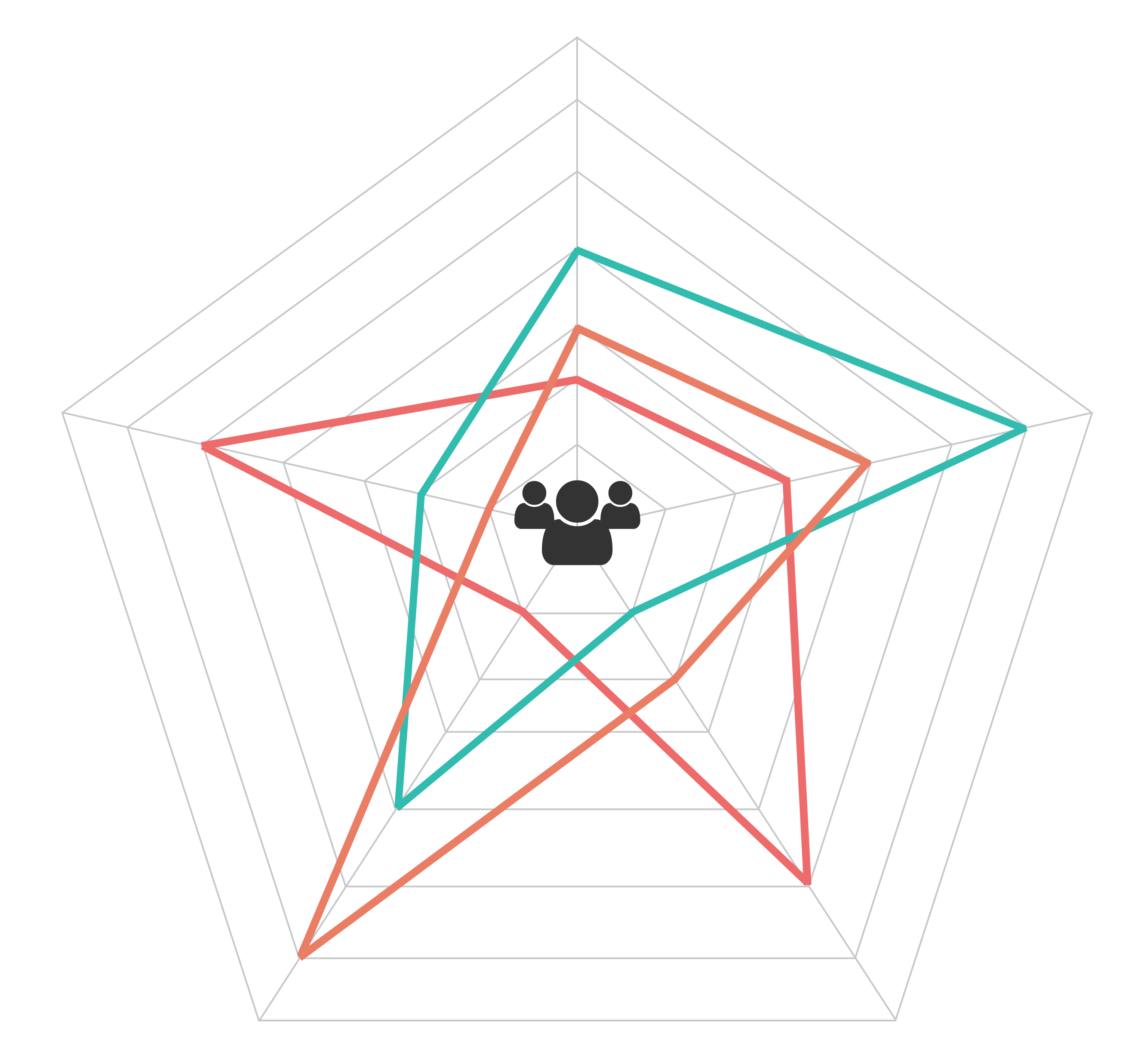 The WHAT, WHY and HOW of Conversion Tracking
Split test vs. multi-armed bandit: simulation, source code and ready-to-use app
When and when not to A/B test
This article discusses the differences of A/B or Split tests and multi-armed bandits for variant testing. It can be used to e.g. choose the best performing set of ads for a digital marketing campaign. Simulating and measuring the performance of both methods in various experiments shows that in most scenarios the Bandit dominates the Split and should be preferred. In addition to the simulation results, all of the required source code is provided plus a simple web app for variant optimization using the Bandit method.